Maxi V4 | Large Chastity Cage | Chastity Cages co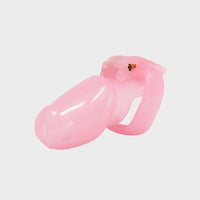 Maxi V4 | Large Chastity Cage | Chastity Cages co
Taking on the style of the legendary Nub chastity cage, the V4 Maxi is the bigger brother cage for those who crave to be securely locked down in a comfortable, lightweight and rigid cage.
The Maxi is designed to accommodate larger anatomy with a more spacious interior and over 3 inches of length permitted.  The Maxi is the largest of the V4 cages and available in the same great colours as it's little brothers.
Length: 80mm / 3.15 inches
Internal Diameter: 35mm / 1.38 inches
Material: Resin
Feel: Rigid
1 V4 Maxi chastity cage, selection of rings and integrated lock and keys. Each cage comes with a variety of rings sizes, so you don't need to pick your size at checkout. 36mm/40mm/45mm/50mm rings all come packed with the cage.