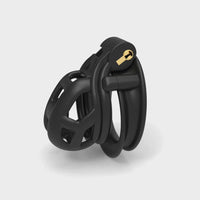 The Cobra Nub is one of those super short chastity cages ideal for the chastity masochists.  Lightweight but yet exceptionally strong, this 3d printed cage is designed to be comfortable whilst aimed at those who are serious about male chastity.
Flared base ring secures this chastity cage tightly to the body and the option of integrated lock or travel locks opens up so many more possibilities for play.
Length: 60 mm / 2.3 inches
Internal Diameter: 32mm / 1.25 inches
Material: Resin
Feel: Rigid
Rings diameters: 38mm, 43mm, 48mm, 52mm
Chastity cage with 4 rings. Integrated lock and and set of keys as well as set of temporary plastic locks and adapter.