Locked n Blocked Mens Chastity Cage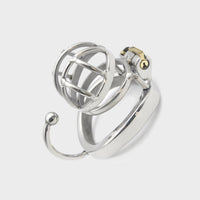 Locked n Blocked Mens Chastity Cage
A short chastity cage with a twist..  The attachment to the ring keeps the testicles separated and spread at all times whilst the secure locking device and short cage cram you into a cruel and small space offering no escape.
Length: 45mm / 1.78 inches
Internal Diameter: 35mm / 1.38 inches
Material: Stainless Steel
Feel: Rigid

Ring Diameter
S = 40mm or 1.57 inches
M = 45mm or 1.77 inches
L = 50mm or 1.97 inches
Chastity cage and chosen size of ring. Integrated lock and a set of keys.