Solitary Confinement Steel Chastity Cage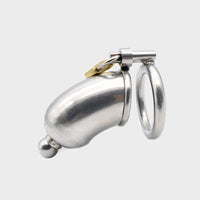 Solitary Confinement Steel Chastity Cage
"Stop Touching!!" - words you will not have to worry about hearing whilst wearing this cage.  A beautifully minimal and almost industrial designed chastity cage with a completely closed design.  Not even just closed but with the addition of the steel plug it'll encase in ways like no other, taking your 'security' to another level.
Length: 6.8 cm | 2.7 Inches
Internal Diameter: 35mm / 1.38 inches
Material: Stainless Steel
Feel: Rigid

Ring Diameter
S = 40mm or 1.57 inches
M = 45mm or 1.77 inches
L = 50mm or 1.97 inches
Chastity cage and chosen size of ring. Padlock lock and a set of keys.